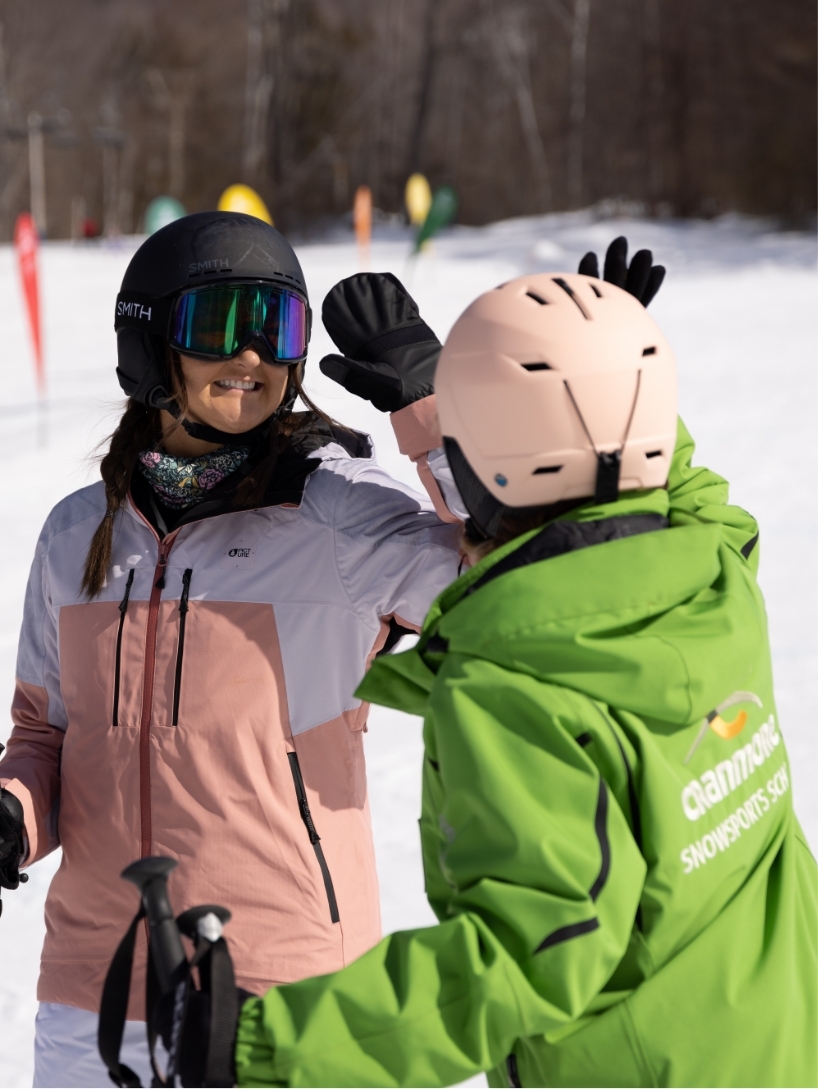 Lessons and Seasonal Programs
Lessons
Cranmore's goal is to create lifelong passions for skiing and snowboarding. Our pros are trained in the Terrain Based Learning Method ™, a game-changing revolution within the snow industry, adopted by some of the best ski schools in the country.
Using specifically shaped snow features to naturally control your speed and body position, Terrain Based Learning removes the traditional fears and anxieties associated with your first time sliding on snow, allowing you to focus purely on the fun.
Book Your Lesson

For best availability, reserve lessons online, at least 48 hours before arrival. Within 48 hours call our reservation staff for availability.
603-356-5544 ext. 2501.
Seasonal Programs
For kids just starting to ski this season, consider one of our Private Lesson options, specifically designed for their age and independence. Our KidsRule Mountain Camps are a great option for kids ages 4-14

Our seasonal programs promise safety, fun and friendship for kids ages 5 and up, all winter long. These programs are designed for kids who are skiing all green terrain top to bottom, independently controlling their speed and riding the chairlift safely with other kids.
Seasonal programs run from December 27th - March 17th and meet Saturdays and holiday Sundays from 8:30am–1:30pm and Sundays from 8:30am–12:30pm as well as holiday vacation week and President's Week. 
Due to the popularity of our seasonal programs, Rattlesnakes, Race Transition and Freestyle Skiing are sold out for the 2023/2024 ski season.
Filter By Age
Rattlesnakes
Ages: 5 - 14
$1,699
Rattlesnakes is a skill development program that builds the basics, so kids can develop dynamic skiing skills and an awareness of the mountain environment. Social interaction, fun, and togetherness happen as a natural part of the learning environment. Groups are split by age and ability.
As kids master advanced skills, the program will focus on mastering all types of terrain including racecourses, terrain parks, moguls and glades. Once kids have developed strong basic skiing skills, our coaches will begin to introduce and focus on specific goals.
This program is sold out for the 23/24 winter season.
Race Transition
Ages: 7 - 9
$1,699
The Race Transition program provides a safe and fun opportunity to explore alpine skiing and racing in preparation for kids to enter the competitive program of their choice.
All participants should have the ability to ski blue trails at a skill level that enables them to keep up with a group. This group will participate in fun race activities throughout the season.
This program is sold out for the 23/24 winter season.
Cranmore Race Team
Ages: 8 - 13
For kids ready to enter the competitive venue, we offer a variety of programs for age-appropriate competitions throughout NH and beyond in partnership with MWV Ski Team. This program requires athletes to meet an ability standard.
More Info
Freestyle Skiing and Beyond
Ages: 9 - 14
$1,849
Kids in the Freestyle Skiing Program learn the progression of tricks and skills, focusing on proper technique, park etiquette and safety while having fun and mastering all terrain. Competition opportunities will be available as the group progresses and becomes proficient.
Kids enrolled in the Freestyle program should be able to ski all of Cranmore's blue and some black trails, proficiently in a variety of snow conditions.
This program is sold out for the 23/24 winter season.
Golden Gliders
Ages: 50 +
Golden Gliders is a season long program offered on Mondays throughout the season for adults ages 50+ and up. If you can ski comfortably on blue square terrain, in a variety of conditions, this program is for you.
Our coaches will offer helpful tips designed to enhance your skills to make skiing easier and more enjoyable.
The program meets at 9:00am at the bottom of the North Slope. Dates for 2023/24 season to be announced.
$159, must purchase a season pass.
Please note that Rattlesnakes, Race Transition and Freestyle are sold out for the season.
For other programs, you may email your program registration and release of liability forms to [email protected] or mail to:
Attention Karen Dolan, Snowsports School Director
Cranmore Mountain Resort
P.O. Box 1640
North Conway, NH 03860